I Brought You My Bullets, You Brought Me Your Love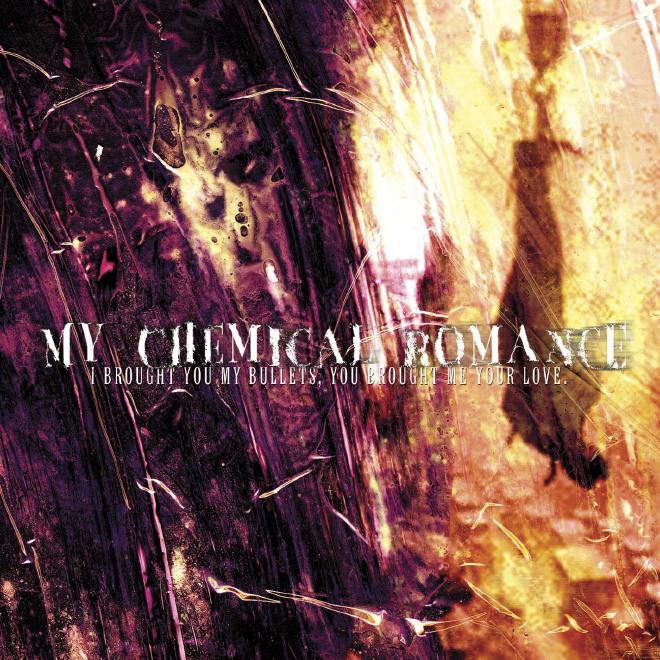 I Brought You My Bullets, You Brought Me Your Love (abbreviated as Bullets) is MCR's first album. Similarly to Danger Days, Bullets isn't really mentioned when discussing MCR. Three Cheers for Sweet Revenge and The Black Parade both steal the show as what defines them as a band. I've already reviewed Danger Days, so today I will look into Bullets and what I think of it.
I'll start my review with this - Bullets is an awesome album. I've listened to it twice recently for this review and both times I found myself mini-headbanging in my bed, as cringe as that sounds. It's a much more visceral, punk-like album than their other albums, which makes sense being their first album. The album is this constant push of energy (other than the tasteful "break" at Early Sunsets Over Monroeville) that makes this album a joy to listen to every time. The guitars in this album are insanely good, and they definitely deserve the long instrumental sections that they get throughout the album.
At this point in the review, I'd start dissecting the album from start to finish pulling out any highlights and lowlights, but I'm honestly struggling to think of much to say here. Headfist for Halos is my favourite song from this album, but that may be because my dad used to play it on Guitar Hero 2 a lot, or at least it must have been a lot since I remember recognising it the first time I listened to this album in full about 4 years ago. Back to the topic - I can't think of much to say. This may be why the album is a bit "forgotten". Looking at the Spotify streams, it doesn't have any massive singles like Welcome to the Black Parade and I'm Not Okay. This is a bit sad to discuss. I only really listen to full albums and haven't maintained my playlist since sixth form (due to how Jellyfin handles playlists, it may have decayed a bit as I replace albums with higher quality versions with different filenames). Bullets is a brilliant album, but there isn't a shining star of a song to bring people to it in the age of streaming music and playlists.
In the efforts of making this review look big, I'd like to mention a few interesting things about this album that I found in my extensive research (Wikipedia). Story-wise, the album is actually related to Three Cheers for Sweet Revenge. I haven't really grasped the story of either album, so you'll have to look on the Wikipedia page for that. Secondly, Skylines and Turnstiles is a song directly about 9/11, which caused MCR to be created in the first place. This is serious by the way - look at this funny Wikipedia screenshot.
In conclusion, you should listen to Bullets, especially if you're already a fan of MCR's other albums. Let's be honest - even if you consider yourself a big fan, you've probably never listened to this album, at least not to the extent of Three Cheers for Sweet Revenge and The Black Parade. You could even call it a "hidden gem" if you want to sound like some wanker in the games industry.